What happens next? - pinned 10th Nov. 2021
Following the decision by An Bord Pleanála this week many of you have got in touch to ask what happens next.

We will have more to say about this in the coming days - to make sure you are kept informed please sign up to our newsletter.

As always, please feel free to send us any input, ideas and messages you may have to our email address: stop.holycross.college@gmail.com
Build-to-rent row: are we getting our housing mix wrong? - 13th Nov. 2021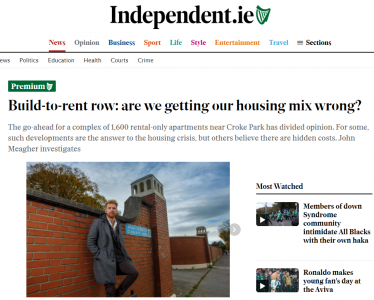 "The go-ahead for a complex of 1,600 rental-only apartments near Croke Park has divided opinion. For some, such developments are the answer to the housing crisis, but others believe there are hidden costs. John Meagher investigates.
On Monday afternoon, the news that Rob Curley had been dreading came to pass. An Bord Pleanála announced that it had approved a huge complex of 1,600 apartments at Clonliffe College near Croke Park."
From: https://www.independent.ie/iri...
Developer of 1,600 units open to leasing to DCC despite council's 'alarm' at build-to-rent scheme - 10th Nov. 2021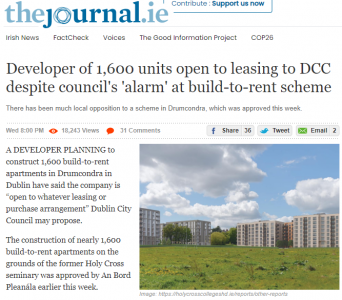 "A DEVELOPER PLANNING to construct 1,600 build-to-rent apartments in Drumcondra in Dublin have said the company is "open to whatever leasing or purchase arrangement" Dublin City Council may propose."
From: https://www.thejournal.ie/drum...
An Bord Pleanála grants permission to Holy Cross College development - 8th Nov. 2021
See the document: ABP Clonliffe (pdf)

An Bord Pleanála decides against an oral hearing - 4th Nov. 2021

See the sample letter: ABP No Hearing (pdf)
DCC Report on the Clonliffe College project - 13th Sept. 2021
https://dublincity.sharefile.e...
The assessment seems to be very much in agreement with most concerns raised in our campaign:
"...it is critical that a scheme of this scale should not be purely for rental, given the desire and need for local residents and potentially people from outside the area to purchase their own home. It is considered the scheme is a major missed opportunity to create an integrated, mixed income, mixed ownership and sustainable new community with a full range of apartment types and sizes"
Housing For All – Panel 3: Political Change? - 5th Sept. 2021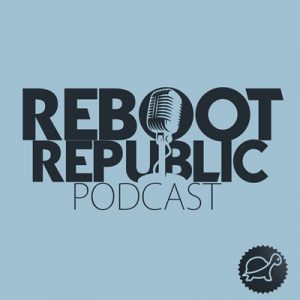 "This Reboot Republic special is the 3rd panel of the analysis of the Government's newly launched Housing for All Plan. It looks at the key parts of the plan in relation to design and building standards, build to rent and investors, the funding for the plan, and public action and protest planned to advocate for a radical change in housing policy.

In this podcast we are joined by Eoin Ó Broin, TD, Cllr Tina McVeigh of the National Homeless and Housing Coalition, and Rob Curley and Alfonso Bonilla architects with the Maremoto Architects firm."
https://tortoiseshack.ie/housi...

___
Dublin build-to-rent scheme will exacerbate housing crisis, SF leader says.
Proposed €610 million Drumcondra scheme opposed by majority of submissions - 30th Aug. 2021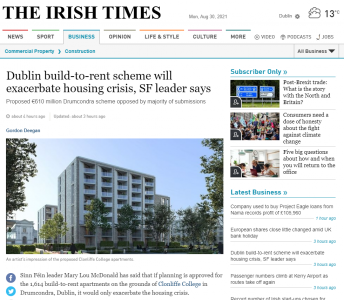 "Former environment editor with The Irish Times, Frank McDonald said in his objection that the "overblown scheme" was "just another element in the ongoing commodification of housing in Dublin for international capital investment, engineered by the property lobby and facilitated by successive mandatory guidelines".
Mr McDonald said the 12 apartment blocks constituted nothing more than money trees in a landscaped setting."
From: https://www.irishtimes.com/bus...
___
Mary Lou McDonald among objectors to 1,600-apartment build-to-rent development in her Dublin constituency - 30th Aug. 2021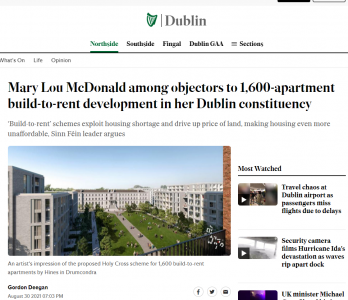 'Build-to-rent' schemes exploit housing shortage and drive up price of land, making housing even more unaffordable, Sinn Féin leader argues.
Mary Lou McDonald has stated that if planning is approved for the 1,614 'build-to-rent' apartments on the grounds of Clonliffe College in Drumcondra, Dublin, it will only further exacerbate the housing crisis.
From: https://www.independent.ie/reg...
___
Ireland's housing crisis just got personal - 30th Aug. 2021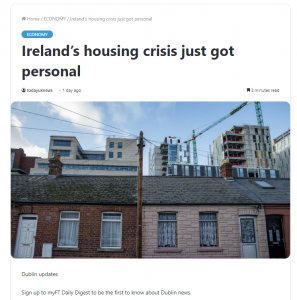 "Manchán Magan, an Irish writer and film-maker, once built himself a house out of bales of straw. Newly arrived from Mexico into Dublin's severe housing crisis, I'm starting to think of following his example."
By Jude Webber at the Financial Times (paywall) - syndicated here
___
Our campaign leaflet - from last week just in case you missed it! - 21st Aug. 2021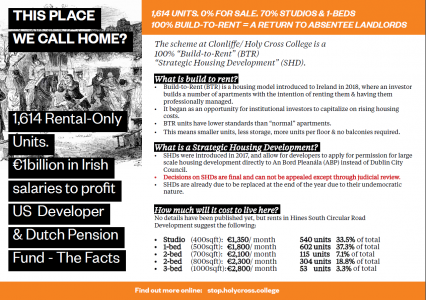 ___
RTE drivetime - 19th Aug. 2021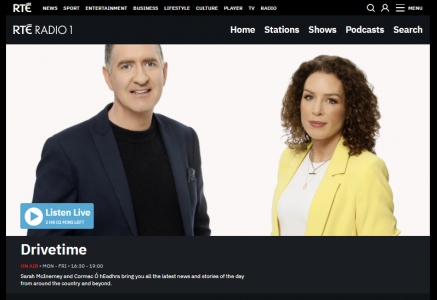 https://www.rte.ie/radio/radio...
"Fergal Keane has been to visit a controversial, huge buy-to-let apartment plan in Dublin's Drumcondra."
___
DublinLive - Kim O'Leary, 19th Aug 2021 - 13.57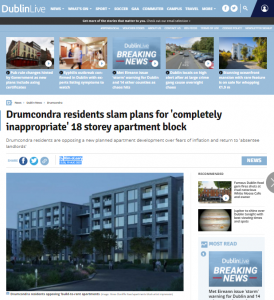 https://www.dublinlive.ie/news...
Drumcondra residents slam plans for 'completely inappropriate' 18 storey apartment block.
Drumcondra residents are opposing a new planned apartment development over fears of inflation and return to 'absentee landlords'

___
Pat Kenny - Newstalk - 19th Aug. 2021 - 11am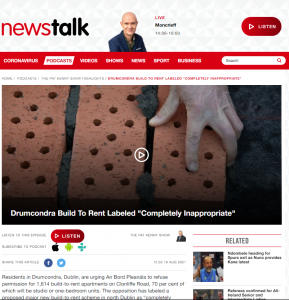 https://www.newstalk.com/podca...
"Residents in Drumcondra, Dublin, are urging An Bord Pleanála to refuse permission for 1,614 build-to-rent apartments on Clonliffe Road, 70 per cent of which will be studio or one-bedroom units. The opposition has labeled a proposed major new build-to-rent scheme in north Dublin as "completely inappropriate". To discuss the proposed scheme Pat was joined on the show by Rob Curley, Director with Maremoto Architects"
___
Reboot Republic with Rory Hearne - 18th Aug. 2021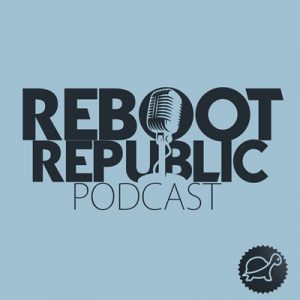 https://tortoiseshack.ie/137-i...
"This Reboot Republic podcast discusses the problems with the Build-to-Rent developments being proposed and developed in Ireland by global investment funds. This podcast is about the future of this city and country- it is about what type of homes are being built for Generation Rent and how global real estate investment funds are turning homes into profit maximising commodities. Rory talks to architects Rob Curley & Alfonso Bonilla about what are the issues with the proposed build-to-rent development by real estate fund Hines for Drumcondra in Dublin. They explain the problems with the design – the lack of liveable units, the absence of units to buy, and the conversion of housing into assets – asset urbanism."
___
Drumcondra residents oppose build-to-rent scheme - Irish Times 18th Aug. 2021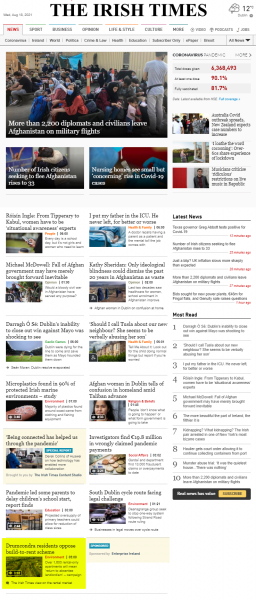 ___

"We know what the public interest looks like. Cross the road from Griffith Wood, which is now a suburb of South Carolina, and you can see public housing that was well designed, properly planned and funded by a state that was young and poor.
But what use is that? It merely gave ordinary people good lives. All it did was give them the basis for optimism about the future, not just of their own families, but of the fragile new State they now inhabited.
The State struggled to live up to that promise. But it did have some notion that, if it was to hold together at all, it would have to be a place that ordinary people could call home. There is too much money to be made for that naive belief to be sustained"
Fintan O'Toole on the development of Marino in Dublin / Irish Times Jul 24, 2021
___
Article 2 3.3 of the City Development Plan states that 'The provision of quality housing that is suitable for citizens throughout their lives and adaptable to people's changing circumstances is fundamental to creating a compact city with sustainable neighbourhoods'
___
"During the pre-planning consultation, Dublin City Council planners expressed concern over the height, bulk and massing of the higher elements of the scheme.
The council planners also expressed concern over the then unit mix with an over-concentration of studio and one-bed accommodation.

The council said that the Hines application should be looking to create a long-term and stable community.
from the Irish Times, Wed, Jul 14, 2021: https://www.irishtimes.com/bus...
___